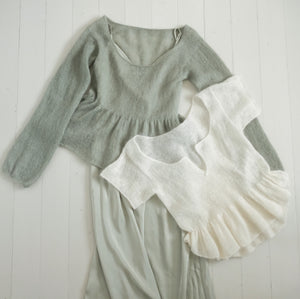 This is a pdf-file that will be sent to your email after purchase. 
Width (final)

80 (85) 90 (100) 110 (120) 130 (140) 150 cm

Shoulder to shoulder

35 (36) 38 (40) 42 (44) 46 (47) 48 cm

Length – shoulder to waist

39 (40) 41 (42) 43 (44) 45 (46) 47 cm

Gauge

10 x 10 cm = 24 sts x 30 rounds 

Suggested needles

3,5 mm long-cabled circular needles

Yarn & notions

Short sleeves with rounded peplum:

75 (75) 100 (100) 100 (125) 125 (150) 150 g Soft Silk Mohair 

from Knitting for Olive (25 g = 225m)




Long sleeves and straight peplum, with i-cord finishings: 

125 (150) 150 (150) 175 (175) 200 (200) 225 g Brushed Lace 

from Mohair by Canard (25g=210m)




+ a light-colored elastic for the waist
About the pattern
Aften blouse is a soft and fluffy blouse, meant to be worn with little positive ease and with loose, wide sleeves. It is knit in the round from the waist upwards with or without a slit at the neckline. You'll cast off for the neckline and continue knitting flat, and the back piece is knit with a slight slope for the shoulders, which you will weave together.
From the waist down, you'll knit a peplum by doubling the number of stitches and shape with short rows or choose to knit straight down.
You'll then pick up stitches for the sleeves, which you will knit in the round to your desired length.
You can then choose to finish the sleeves and the neckline with an i-cord edge.
Please note that he amount of yarn has been difficult to determine, as there are many possible modifications: the length of the sleeves, the length of the body, different peplums, i-cord edges… These are big and small adjustments that can easily change the amount of yarn. The estimations above are based on the two versions presented: version 1 has short sleeves, a split neckline and rounded peplum, and version 2 has long sleeves, no slit on the neckline, straight peplum and an i-cord edge. If possible, I recommend planning for an extra skein to be on the safe side. 
I apologize for not providing a completely accurate estimate, and would welcome feedback on your yarn usage so I can eventually get a better overview.
Gauge and adjustments
It is important that you match the gauge in order to achieve the above measurements. Please knit a swatch before you start. Knit a square slightly larger than 10 cm x 10 cm. If your gauge is correct, you will have 24 sts and 32 rows on 10 cm x 10 cm. If you have less stitches, use smaller needles, and if you have more stitches, use bigger needles. This also means that you can use any yarn you'd like as long as the gauge is correct.
I have designed this sweater so that you can easily adapt it to your own needs. Here are some helpful suggestions:
- If you choose a version with a slit at the neckline, the width of the yoke will be slightly larger. Please take this into account when choosing your size.
- If you are between two sizes, you can either go for a slightly different gauge, or knit fewer/more sts at the beginning and adjust the decreases towards the shoulders. For example, if you use a gauge of 25 sts = 10 cm, you will get a finished width of 77 (82) 86 (96) 106 (115) 125 (134) 144 cm. For a 23 sts = 10 cm gauge, your finished width will be 83 (88) 95 (104) 116 (125) 136 (146) 157 cm. As you can see, even a 1 st difference from the gauge can alter the fit.
- Measure the length you would like to have from the waist to the lowest part of the neckline slit so you can adapt to your own preference, and avoid too deep or open of a neckline. It is also essential that the peplum ruffling begin at waist height.
- If you'd like a narrower shoulder area, you can increase the number of decreases from the armhole sides. 
- If you wish to tighten the waist a little bit, you can sow an elastic band at the waist where the ruffling starts.
- If you want more fluttering sleeves, you can pick up and knit more sleeve sts. If you'd like the sleeves to flutter less, you can add a few cm to the measurements for short sleeves so that they lay closer to your arms.
- An i-cord can tighten the neckline nicely if you fell there is a need for it.
- If you want a more modest peplum ruffle, you can increase as follows instead: * k2, yo * instead of * k1, yo * as instructed in the pattern.
- Take the time to measure yourself and plan your blouse. It will give you a better fit, that suits your own body, and it will be worth every extra stitch and time spent.
pattern is translated by Cora Henshaw