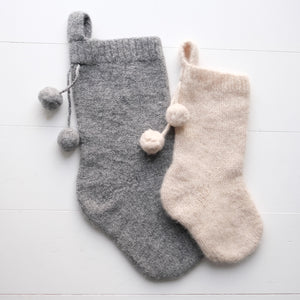 this is a pdf-file that will be sent to your email after purchase.
Size: small (large)
Measures: approx 35 (44) cm long and 14 (18) cm wide after felting
Gauge: 14 m = 10 cm
Suggested needles: 6 mm long circular needles for magic loop or small circular needles/ double pointed needles
Yarn: 100 g (150 g) Fritidsgarn from Sandnes garn or Vams from Rauma garn
About the pattern

Aftens Christmas stocking is worked top down. You start with a rib border and then work in stockinette stitch to the heel. To form the heel you work short rows back and forth across half the work. You then work short rows over the turning stitches again, to fully form the heel. The foot is worked in stockinette stitch but the toe is shaped with decreases on opposite sides. This is where the pattern differs from a normal sock, as it needs to look nice when hung up, and doesn't need the sole of the foot to sit flat. The decreases are thus made so that the decreases are on the top and bottom of the foot. To finish you graft the remaining stitches together with Kitchener stitch. You can then add optional details like a small strap from which to hang the stocking. The stocking can be felted and decorated as desired.
pattern is translated by Elise Damstra